Perhaps he was a fool, a liar and a fraud, the Baron von Munchausen of Russian influence in Europe. But the case of Alexander Usovsky – even though it may seem like a farce – is actually very serious. It's the first so thoroughly documented example of Moscow's foreign policy. It shows sources of its financing and explains who is answering to Kremlin's propaganda puppet masters. And how it makes use of radical nationalists.
The Usovsky scandal erupts in March 2017. Ukrainian hackers release proof that Russia has been financing anti-Ukrainian groups in Poland, Czech Republic, Hungary and Slovakia. Activists from CyberHunta and Cyber Alliance broke into Alexander Usovsky's mailbox and stole information from his Facebook profile. They published all their findings – thousands of e-mails, invoices, documents – on the Ukrainian website Inform Napalm. Inform Napalm, CyberHunta and Ukrainian Cyber Alliance support Ukraine's independence and oppose Russian influences in this country and rebellions in Eastern Ukraine.
The leaked data becomes the first tangible proof that Russia is running anti-Ukrainian operations in Central Europe, and its allies are – just like in the West – far-right activists and politicians.
After initial analysis of the "Usovsky archive" it became clear that Belarusian-born activist has been receiving Russian financing for anti-Ukrainian actions, mostly demonstrations and happenings. He was most active (and most effective) in Poland, but he also worked in other V4 countries: Hungary, Czech Republic and Slovakia. Usovsky operated very effectively: he would quickly find the right people in each of those countries, give them tasks, transfer money and watch over more or less successful execution of said tasks.
Alexander Usovsky is a 49 year old citizen of Belarus, an author, writer and former member of a Russian political group National Socialist Society (NSO) – a historian with radical views turned media star for a few days. Then the press forgot all about him again. It's no surprise – his activity was neither long-term, spectacular nor particularly effective. But Usovsky's case is one of the most interesting (because it's 100% trustworthy) accounts of Kremlin's aggressive politics beyond the borders of the Russian Federation. It allows to track down possible sources of financing of pro-Russian propaganda, ways of reaching sponsors, tasks given to the contractors, or ways of transferring money.
Vsquare.org wanted to know what Alexander Usovsky was doing for Russian money – we analyzed his activities, plans and contacts, as well as the leaked data from Usovsky's computer and interviews with people who used to work with him. We went through thousands of pages of Usovsky's correspondence, checked the people he hired and the people he cheated – and what he has managed to achieve in each of four Central European countries.
Understands some Czech, speaks some Hungarian
Who is Alexander Usovsky? If we wanted to base our answer on the information found in his e-mails, it would be difficult to draw coherent conclusions. Usovsky attached his résumé to several e-mails he has sent to potential sponsors. In an e-mail dated 12 August 2014 he wrote: "I was born on April 9, 1968 in BSSR, I am Belarussian, Orthodox Christian, married. In 1985 I graduated from HSch (high school) no. 3 in Belozersk in Brest Oblast, I studied history at the Belarusian State University of V. I. Lenin and graduated in 2004. In 1986 I was drafted to the USSR army, and I have served in Air Force communications, I have the rank of Sergeant Telegraphist First Class. From 1992 to 2002 I was self-employed: import-export business in Eastern Europe. Since 2003 I have been active in social organizations in Moscow: "Narodniy kontrol", "Russkoye Obchestvo" NSO."
NSO (Национал-социалистического обществo) – is a Russian national socialist organization. Its political program calls for building the all-Russian nation, based on the ideology of national socialism.
According to vsquare.org findings, between 2004 and 2006 NSO published its own newspaper Korpus, where Usovsky had his articles printed, under both his real name and an alias "Belozersky". In his autobiography published on Belarusian website www.grodno–best.info he mentions this episode as a "cooperation with NSO media". Korpus newspaper has been closed down in 2008 after court ruling, due to publishing of extreme materials.
In another résumé – dated 12 April 2014 – Usovsky wrote: "In May 2006 my first book was published: 'What happened on 22 June 1941?'. Between 2007 and 2013 I have published 17 more historical-journalistic books. I speak fluent Polish, understand Czech, and I know some Hungarian."
However, there's a large gap in Alexander Usovsky's biography. In 1986 he finished his army service, but didn't go back to university. He only graduated 18 years later. He claims to have ran a company in the years between. Other sources – including Usovsky's correspondence and blog – prove that it was not his only occupation during that time.
Usovsky likes to share his thoughts on Polish history and politics. He backs his comments with claims about his deep knowledge of the country, and mentions his studies at the University of Silesia in Katowice. However, when we look into his biography – and go through information he wrote on his blog – it turns out that his "studies in Poland" were nothing more than 1.5-month internship in 1989, when Poland's political system was changing from communist to democratic. Usovsky admits that the university in Katowice was his host only officially: "In reality we were taken care of and fed by the Polish Army – we would go for trips in their buses all over Lesser Poland and Upper Silesia. We had our dinners in mess halls". The visitors from USSR had a great guide: "a very respectable Colonel who showed us, Soviet Soldiers, Wawel, Jasna Góra Monastery and Pszczyna".
Usovsky visited Poland a few more times since then – as he admitted on his blog: "I would often visit the Privislinsky krai" ["Privislinsky krai", or Vistula Land, is the name of the part of Poland occupied by Russia in 19th century, considered offensive in Poland].
There are more gaps in Usovsky's biography. In one of his e-mails Usovsky, frustrated with inability to find a sponsor who would pay for organizing a pro-Russian party in Poland, wrote that he always did everything with his own money – even the fighting. One could consider the word "fighting" a purely rhetorical device; however, Usovsky's blog note from 23 March 2017 casts a different light on it. Usovsky wrote about his friend from Poland: "I heard this tale from my old friend from Pszczyna, Czesław Chlebowski, who has lost his life on the 5th of August 1996, during the battle in Karlovac. It was a sad time, August '96, the time of traitors and idiots who squandered the Republic of Serbian Krajina."
We didn't manage to establish the identity of Usovsky's friend. But the fights for Karlovac – between the armies of Serbian Krajina and Croatia – indeed took place on the 5th of August, but the year was 1995, not 1996. Both sides – Croatian and Serbian – were supported by Polish and Russian mercenaries.
In recent years, Usovsky has been writing for various press agencies, including Regnum and Rex. Both are managed by Modest Kolerov, former Kremlin official, known for his neo-imperialist views.
The analysis of contents found on Usovsky's hard drive proved that he used to be an active member of a nationalist National Sovereignty Party of Russia (NDPR, Национально-державная партия России) – which has received an official warning from Russia's Minister of Justice, one of the reasons being NDPR's anti-Semitism. Today, NDPR's website promotes National Socialism and supports pro-Russian rebellion in Eastern Ukraine. NDPR is similar to Russian National Unity party (RNU, Русское национальное единство), which is openly Nazi and operates illegally in Russia.
Was the fascist party an important stop on Usovsky's way? He was storing NDPR-related files on his computer, including various versions of policy statements, attendance lists for delegates at the 2007 party congress, propaganda materials (10 claims of Russian National Socialism), even templates of party member cards and letters to confirm party membership. Leaflet templates feature photographs of Russian politicians, marked with the star of David and a description: "Don't start a family with them, don't work for them, don't work with them". The files also include a "List of Jews who have changed their names".
Usovsky's computer also contained templates for letters to the Prosecutor General of Russia with demands to have Svetlana Bakhmina serve her full sentence in a penal colony. Bakhmina was an executive for Yukos, the Russian oil company. The company was forcibly broken up and nationalized, and its owner Mikhail Khodorkovsky (as well as Bakhmina) was arrested on charges of embezzlement. Svetlana Bakhmina was a mother of two small children and was pregnant – human rights activists were collecting signatures under appeals for Bakhmina's release. In 2008, Usovsky and his friends were engaged in the opposite activity – they collected signatures and petitioned for Bakhmina to complete her sentence in jail. Letters signed by "outraged citizens" surely made it easier to decide that former executive of state-owned Yukos should not be released.
Delusional tales of Auschwitz
When reading Usovsky's e-mails, one can't help but notice him greeting his friends with a Hitler salute: "Heil". In extreme circles, Usovsky is known as a "theorist" of National Socialism and an author of a series of articles titled "The problems of modern Russian National Socialism". Usovsky's beliefs can also be found on his blog: "National Socialism is the foundation of traditional society". Another quote from his blog reads: "Horrible tales about millions of people being murdered in gas chambers; Auschwitz should be left to delusional fantasists".
Usovsky, just like every respectable historian, doesn't forget important dates in his blog entries: 17 September is the day of unification of Belarusian nation, 20 April – "we all remember what happened on that day", and if someone forgot, they can look at the picture of chancellor Adolph Hitler. 21 August 1968 – the day when the Red Army put "Maidanization" of Czechoslovakia to a halt (according to Usovsky).
Usovsky is also an author – he wrote nearly 20 historical books (some of them are very close to self-plagiarism). In his books, Usovsky argues that Adolph Hitler was provoked into the war by British and American capitalists. After the war, another, even more outrageous scandal took place – there were no just trials in Nuremberg – only vengeance. Sometimes Usovsky writes about Joseph Stalin. He believes the USSR leader managed to achieve an almost impossible feat – he cleared his country from a bunch of "cosmopolites with no roots".
Usovsky's perspective on Poland and Polish people is quite particular – even though he declares to be a friend of Poles. Polish elites? Dumb, naive and deceitful, but regular people are very "decent", as one could expect from Slavic brothers. Also, Poles have the tendency to falsify and mythologize the history. A good example is Andrzej Wajda's movie Katyń: it's "not anti-Soviet, not anti-communist, but anti-Russian". Why would it be anti-Russian? Wajda blames NKVD for murders of Polish officers. And in Usovsky's opinion – that's a lie.
On another occasion, Alexander Usovsky gives a tongue-in-cheek advice to Polish farmers to solve the problem of Russian embargo on Polish apples. What advice? It would be enough for the farmers to write a letter to Vladimir Putin, starting with a plea: "Gosudar! We beg for mercy! Forgive your unwise children who have foolishly entrusted your inherited lands, the Kingdom of Poland, to loud-mouthed idiots and senseless clowns!"
He also uses this opportunity to make comments about famous Poles: "Everything connected to Wojtyła have turned Polish minds towards a national psychosis. And that's simply because they have nothing else to be proud of. That's why they try to milk the fact that they had a Polish pope. All the while, the only Pole, who ever saw Poland from space – Mirosław Hermaszewski – is alive and well."
Dima chose to cooperate
Usovsky's closest colleagues and friends make an interesting company. Some of them have been involved with fascist, or fascist-friendly organizations with abbreviations that are difficult to remember – they are all part of a thick network of complex social connections. Most of key people around Usovsky are connected with some common points in their biographies. And the fact that they all rubbed shoulders with Russian special services. And that in the 90s, they all had something to do with the August Coup. The closer one looks into their biographies, the more surprises and strange connections pop up, just like when playing with a matryoshka, the Russian doll-inside-doll toy.
Vsquare.org has established that Usovsky had connections to 43-year-old Sergei Korotkich. Korotkich is a citizen of Belarus, and a a reconnaissance soldier trained in Belarusian Army. In 1990s, he spent two years in KGB school, but he was expelled for taking part in clashes with militia on the opposition's side. In 1999 Korotkich joined a neo-Nazi RNU (Russian National Unity) party. RNU became more widely known in 1993, when its leader Alexander Barkashov led 100 RNU fighters to defend the White House in Moscow during the constitutional crisis.
In 1999 Korotkich took part in an attack on the opposition supporters from anti-Lukashenko organization Belarussian National Front (BNF). RNU was a half-criminal organization – it had a few dubious sources of income, including providing "security services" at marketplaces and facilitating used car trade. One of RNU leaders in Belarus was Valeri Ignatovich, a former officer of an elite militia unit Almaz, and a leader of a gang that committed murders and kidnappings (one of their victims was ORT [Russian Public Television] cameraman Dmitry Zavadsky). Ignatovich is currently serving a life sentence.
In early 2000's, Korotkich moved to Moscow. He became one of three founders of the National Socialist Society (NSO). He began with a striking friendship with 52-year-old Dmitry Rumyantsev. The men met in December 2005. In an interview with Belaruski Partizan website Korotkich claimed that he was paying Rumyantsev for managing NSO website.
Interesting fact: in an interview with Belaruski Partizan, Korotkich revealed that Russian Special Services were working to dismantle NSO:
'They tried to control us. I didn't agree to cooperate … But Dima [Rumyantsev] agreed and we split up. It happened just like it did in Belarus before, with RNU – people who have been working with me for the past 10 or 15 years left the party together with me.'
After leaving NSO, Korotkich spent some time in various places, including Middle East, where he probably worked in security guard companies that were hiring contract army soldiers. In April 2014 he appeared in Ukraine, supporting the country's new authorities, fought in Donbass in the ranks of Azov battalion against separatists and Russian armies supporting them. The president of Ukraine Petro Poroschenko rewarded him for his service, granting Korotkich Ukrainian citizenship.
The leadership of NSO was in the hands of Dmitry Rumyantsev – an economist with relatively large political experience (in comparison to Korotkich) – he used to be an assistant to Albert Makashov who was a deputy in the State Duma from the Communist Party of the Russian Federation (CPRF). It was Rumyantsev who decided to cooperate with Russian Special Services.
The White House Team
Albert Makashov is 79, has the rank of General of the Soviet Army. In early 90's he commanded one of the military districts. In August 1991 he took the side of hard communists and supported Gennady Yanayev's coup d'état attempt (the August Coup) against Mikhail Gorbachev's perestroika – this decision cost him his position. In 1992, Makashov was a military advisor to the president of the separatist republic of Transnistria (also known as Pridnestrovian Moldavian Republic). During the constitutional crisis in Russia in 1993 he joined the defenders of the parliament during the White House siege. He was even nominated a Deputy Minister of Defense by Alexander Rutskoy (the acting President of Russia). After the defeat of "White House defenders", Makashov was arrested, and released in February 1994 under amnesty. Later he was an MP in the State Duma twice – that's when Rumyantsev was his assistant. They knew each other from the Movement in Support of the Army (DPA) – an ephemeral political organization founded by KGB agents and former militaries who took part in defending the White House during the constitutional crisis. The Prosecutor's Office was investigating Makashov's anti-Semitic statements, but the proceedings were eventually discontinued.
In 2000, Rumyantsev participated in organizing the Slavianski Soyuz (Slavic Union), abbreviated SS. Then, in spring 2001 he helped create the National Sovereignty Party of Russia (NDPR). In the summer 2001, Rumyantsev became a member of the organizing committee of the Narodnaya Volya (the Party of National Revival) founded by 58-year-old Sergey Baburin.
Baburin is a first-class Russian politician. A lawyer and state historian, spent 3 years of his youth serving in the army during the war in Afghanistan. In 1993 he also was – as a deputy in the State Duma – among those defending the White House during the siege. For 7 years, Baburin was a Deputy Chairman of the State Duma. He is a co-founder of a nationalist political party "Rodina". He was a close associate of Alexander Rutskoy, and he maintained contact with Polish politician Andrzej Lepper.
Back to Rumyantsev. In 2004, Rumyantsev registered the National Socialist Society (NSO), and Usovsky started to write for NSO's newspaper Korpus. NSO's agenda included unification of all "Russian territories" into the Great Russia, in which Russians would be the only recognized nation.
In 2004 Rumyantsev also became the publishing director of Logos Group, and then – an assistant to a deputy in the State Duma, 48 year old Sergey Ivanov from Vladimir Zhirinovsky's Liberal Democratic Party of Russia.
Years later, in 2008, Rumyantsev got a suspended sentence of one year for promoting racial hatred. Before that, Rumyantsev's friendship opened many doors to political society for Usovsky. His entry ticket were his exceptionally fast-written books and connections in the world of National Socialists.
In July 2005 in Moscow, Alexander Usovsky was presenting his book "What happened on 22 June 1941?" in the State Duma building. Among those present were the deputy Sergey Ivanov – most likely he got an invitations thanks to his assistant Rumyantsev. Guests included some important politicians. One of them was Vladimir Churov – back then a deputy from Zhirinovsky's Liberal Democratic Party – who was also Vladimir Putin's old friend back from Petersburg times. A bit later Churov made a real career: he became the Chairman of the Central Electoral Committee for two terms, which made him responsible for vote counting; he is currently working in the Russian Ministry of Foreign Affairs.
Another useful contact for Usovsky was Modest Kolerov – formerly an official in Putin's administration, today he publishes Usovsky's articles as the editor-in-chief of Regnum and Rex agencies. Kolerov maintains good relationships with people from the president's administration. He is a neo-imperialist, a propagator of Russkiy Mir; not allowed into Georgia and Baltic States.
For a while, Usovsky exchanged VKontakte messages with Alexander Dugin, who is a prominent ideologist of Russian imperialism (after some time Dugin stopped the correspondence, because he was annoyed with Usovsky, who constantly mentioned money). Usovsky also managed to get in touch with Konstantin Zatulin – an influential State Duma deputy, member of Putin's party United Russia and chairman of the CIS Institute, which has a substantial budget. Zatulin invited Usovsky to take part in a telecast he was hosting. E-mails show animated exchanges between Usovsky and Zatulin's advisors, but no trace of money transfers.
However, Usovsky needed money. He was trying to convince the Russian Institute for Strategic Studies to sponsor his endeavors – the Institute is financed by the state. Hoping to get some money, Usovsky wrote to Kremlin officials, Vladislav Surkov and Dmitry Peskov. He got in touch with Igor Girkin (also known as Igor Strelkov), a military (rank: Colonel) from Sloviansk, known in Russia as a military hero of the separatist conflict in eastern Ukraine. Girkin is a historian and war reenactor, who volunteered to join the separatists during fights in Transnistria. In 1992 – 93 he fought in Bosnia on the Serbian side. Then he published articles in Alexander Prokhanov's extreme-right newspaper Zavtra for many years. Prokhanov is a well-known Russian publicist and an ideologist of neo-imperialism. He also supported Yanayev's coup in 1991. After the constitutional crisis in 1993, his newspaper Dyen was delegalized – Prokhanov was calling for "destruction of Yeltsin's regime" and was a trusted associate to Gen. Makashov.
During his time in Zavtra, Girkin met Alexander Borodai – a conservative journalist and an employee in Konstantin Malofeev's financial empire; later, Borodai was appointed Prime Minister of the separatist Donetsk People's Republic (DPR). Interestingly, publishing in Zavtra didn't stop Girkin from making a career in Russian security forces. He served in Russian special forces FSB in Dagestan (from 1998) and in Chechnya (from 1999). He left the army to the reserve with the rank of lt. colonel. When he fought in Crimea and Donbas, he was already retired from the army.
Usovsky also knows Mateusz Piskorski, former leader of pro-Russian Zmiana (Change) Party in Poland. According to unofficial sources, in 2016 Usovsky was even supposed to be a guest at Piskorski's birthday party in Moscow, but it never happened. In May 2016, Piskorski was arrested under accusation of espionage (it should be noted that Piskorski was an active supporter of Slavic nationalism). In early days of his political career, Piskorski was a member of the Association for Tradition and Culture Niklot – the organization was often accused of promoting Nazism.
Another acquaintance of Usovsky is Alexey Kochetkov – until recently the chairman of CIS – EMO (election-monitoring organization). Earlier, in 1993, Kochetkov was one of the "White House defenders" as a member of RNU militia. He was arrested for 5 months and then set free during the general amnesty for all those who took part in "constitutional coup". In 1994 he was the editor-in-chief of RNU newsletter "Russki poriadok"(the Russian Order). Later he was removed from the party after allegations of cooperation with the government, and started going for election-monitoring missions to Iraq, Transnistria, South Ossetia, and Abkhazia.
Looking for a sponsor
The most interesting period of Usovsky's activities has begun 4 years ago. In late 2013, Usovsky registered an NGO in Bratislava, named Východoeurópska Kultúrna Iniciatíva (Eastern-European Cultural Initiative). Iniciatíva only exists on paper and is not active in any way or form (on the official address of this organization there were no signs of organization's presence), but it provides Usovsky with a great platform for further moves: he became a director of an EU-registered NGO. Such organization can be easily transformed into a fundraising vehicle. Officially, Východoeurópska Kultúrna Iniciatíva was created to "restore the common cultural space of Eastern Europe".
The first initiative (that would cost 120.000 EUR) was to publish a collection of Eastern-European novels – written by a group of twenty V4 authors.
Usovsky's mailbox shows hundreds of e-mails he sent as the chairman of the European NGO. He sought for sponsors in the EU, but mostly in Russia. And the timing was perfect: the Revolution of Dignity began in Ukraine, Russia was about to take over Crimea and support the bloody rebellion in Donbas. Diplomats and EU citizens were furious with Russia, and Russia needed to promote its own perspective somehow. Usovsky came up with an ingenious idea: he would seek out for people with pro-Russian views in V4 countries. He would pay them, and in exchange they – not Russia – would be organizing protests, rallies and demonstrations against "Bandera-following, fascist, aggressive Ukraine".
The idea fell on fertile ground – Usovsky found a sponsor in Moscow. They gave him an astounding €100.000 grant – and that's just the money he received for the first stage of the operation. He spent almost €20.000 on a new car – a Chinese Geely Emgrand X7 – and used the remaining funds to organize a network of "his people".
Usovsky's archives show that his generous sponsor was Konstantin Malofeev – Russian businessmen, promoter of Orthodox Christian faith and supporter of expansion of Russian influence in the world. It was Malofeev who helped Jean Marie Le Pen solve his financial problems; he also sponsored the Ukrainian separatist movement, including the separatist leader Igor Strelkov (Girkin).
Usovsky received full amount – in cash – in Moscow. There would be no trace of that transaction if Usovsky didn't feel the need to share the news through Facebook. Little did he know that four years later, his profile would be taken over by Ukrainian hackers.
The main problem was that despite his clever plan, Usovsky had little to no contacts in Poland and other V4 countries. The only politician he claimed to know in Poland was Bolesław Tejkowski – a veteran of Polish nationalist groups, born in 1933 and long retired from politics.
Usovsky mentioned Marián Kotleba (a leader of parliamentary neo-nazi party) as an ally in Slovakia.
In Czech Republic Usovsky decided to search for people online. He would actively browse websites that attracted people with pro-Russian views. He plowed through Polish Facebook groups, including "Polsko-Rosyjskie Forum Historyczne" ("Polish-Russian Historical Forum"), "Braterstwo Polsko – Rosyjskie, Братство Польско – Российское" ("Polish-Russian Brotherhood"), "Rosja w superlatywach" ("Russia in Superlatives"), and Czech and Slovakian ones, such as "RUSKO-SLOVENSKÉ priateľstvo / СЛОВАЦКО-РУССКОЕ приятельство" ("Russian-Slovak Friendship") or "Česko – Slovensko – Ruské priateľstvo a Slovanská vzájomnosť II"
For instance: "Russian-Slovak Friendship" is one of the biggest pro-Russian Facebook groups with around 30 000 members, who regularly share content from pro-Russian and conspiracy websites. One of its two admins, Pavol Privalinec, is associated with Slovenské Hnutie Obrody – another fascist political party. It's one of those Facebook areas where people with this kind of worldview get together, therefore Usovsky might have considered it as a right place to recruit potential partners.
Česko – Slovensko – Ruské priateľstvo a Slovanská vzájomnosť II is quite similar – a closed FB group that promotes Czech-Slovak-Russian friendship and Pan-Slavism. The group has over 5600 members (as of end of September). Big part of them are sympathizers of SPD – Czech Nationalist party headed by a Japanese man, Tomio Okamura, and in case of Slovakia – sympathizers of Ludova Strana Nase Slovensko (People Party Our Slovakia). Also members of Communist party are FB fans of this website. The group spreads mostly fake news taken from pro Kremlin websites.
The admin of the "Česko – Slovensko – Ruské priateľstvo a Slovanská vzájomnosť II" group was Ladislav Kašuka, Czech partner of Alex Usovski. He is a dispatcher and security guard in a shopping centre in Prague. In 2014, he went through personal bankruptcy – this is probably the reason why he hates capitalism and set up a Facebook page: Ladislav Kašuka – STOP the crimes of capitalism. He is a former member of the Communist Party. He admires Stalin, Gottwald, Putin, or Asad. He is the founder and administrator of various pro-Russian sites and groups on Facebook. He writes for Czech Free Press.
Some associates never met Usovsky personally: "I have been in touch with Usovsky online, but we've never met face to face", confirms Wojciech Wojltulewicz. He agreed to speak to us before publication of the article about Usovsky in spring 2017 in Newsweek Polska.
Who is Wojciech Wojtulewicz? What is his connection to Usovsky? He used to be a member of the Polish Samoobrona (Self-Defence of the Republic of Poland) party, then he transferred to the pro-Russian Zmiana, and in the end, he moved to Obóz Wielkiej Polski (OWP, the Camp of Great Poland). OWP is a pocket-sized nationalist Polish party with little influence. Right-wing activists refer to it with contempt. Wojtulewicz speaks fluent Russian and is open about his pro-Russian views. He used to organize street demonstrations for Usovsky.
Wojtulewicz is 63. He's sickly and unkempt. He enters the bar with heavy stride, leaning on his crutches. He orders himself a beer: "bottled, strong". Under the coat he's wearing a telnyashka – a white undershirt with blue horizontal stripes, worn by the Russian Navy.
'Have you been taking money from Usovsky?'
'Yes.'
'How much? Hundreds, or thousands?'
'The highest amount I've ever received was 2000 US dollars. It was supposed to pay for the actions in Hungary and at the Ukrainian cemetery in Hruszowice.'
'Are you not afraid? To take Russian money like that?'
'No, I'm not doing anything anti-Polish or anti-Ukraninan after all. I'm just working against Bandera supporters.'
Wojtulewicz would take the money from Usovski and then he would report on the tasks he's completed. He e-mailed him about a protest that OWP organized in front of the Embassy of Ukraine in Warsaw: "Hello, my friend! … This is how the demonstration went: after we rolled out the Russian fag, the girl standing next to the Polish flag was holding a small flag of Donbas. We started a presentation on genocidal actions of the fascist junta from Kiev". Usovsky has also received photos from the demonstration, sent from an e-mail address [email protected].
Dawid Berezicki is the leader of the Camp of Great Poland – he also made a report from the brawl in front of the Ukrainian embassy. The report was translated into Russian and posted on the website of Rex News Agency owned by Modest Kolerov.
This is the first part of the Usovsky case. More about his connections and activities in V4 countries – soon on Vsquare.org.
Paweł Reszka
Polish journalist, co- founder of Fundacja Reporterów (Reporters Foundation). Worked as foreign correspondent covering Russia, former head of investigative desk at Dziennik daily. Based in Warsaw.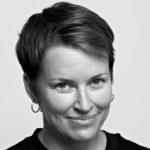 Pavla Holcova
A Czech journalist, Pavla Holcová is the founder and editor-in-chief of the Czech Center for Investigative Journalism. She is an editor at OCCRP and a member of ICIJ. She was a John S. Knight Fellow at Stanford University (2023). Pavla is the winner of the ICFJ Knight International Journalism Award and, with her colleagues Arpád Soltész and Eva Kubániová, the World Justice Project's Anthony Lewis Prize Award. She is based in Prague.