A business conference by Sławomir Mentzen, one of the leaders of Poland's far-right Confederation party, was sponsored by Kuchnia Vikinga (Viking's Kitchen). The deputy head of Kuchnia Vikinga has been accused of involvement in organized crime. According to the prosecutor's office, the gang was engaged in pimping and kidnapping, as well as recruiting skinheads for violent, pre-arranged hooligans' fights. 
A decade ago, Paweł F. built his position on the streets and at matches of the Jagiellonia Białystok football club. Prosecutors believe that F.—known as "Reptile" among football fans—co-organized violent fights between fanatics of football clubs. He was also a buddy of Białystok Nazis and people who profited from prostitution or kidnapping. 
For almost three years, Paweł F.—tall, well-built, with a fashionable haircut and beard—has been sitting on the defendant's bench in the trial of a group of "Dragons" (Polish for "Dragoons"), known in Białystok, the capital of Podlasie, a region in northeastern Poland, as a gang of football hooligans and skinheads. The case is proceeding slowly and in a low-profile manner. The trial—a key one among several involving skinheads and hooligans from the capital of Podlasie—is of interest mainly to the local media. 
Although F. traded his hoodie for a businessman's shirt, he has not lost his streetwise sense of doing business. Today he is building his position as a partner in the catering brand Kuchnia Vikinga (Viking's Kitchen) and turning over tens of millions of euros. Kuchnia's ads have appeared on Warsaw buses and are still seen on the jerseys of Jagiellonia Białystok. The company also sponsored a business conference for Slawomir Mentzen, leader of the Confederation. The Confederation party appeals to those with free-market but also nationalist views. Its politicians come from far-right backgrounds, and, after Russia's aggression against Ukraine, some of them participated in a disinformation campaign targeting refugees from Ukraine. 
Has "Reptile" undergone a transformation, having broken with the criminal world? As we have established, he and his colleagues on the defendant's bench, among others, today form a circle of companies and associations centered around the Viking brand. 
"Vikings" from Białystok have a catering business, a fitness club, and sell dietary supplements. The two "Dragon" brothers, Tomasz and Matthew P., are important pieces of the puzzle: Tomasz is secretary of the Viking Fight Club (VFC) association. Mateusz, the younger brother, is the fight club's president. The association operates at the address of the VFC gym and martial arts club. The club is frequented by "Reptile" and both "Dragons,"  and "Reptile" is a partner of "Young Dragon" in another business. 
This is not the end of the interesting relationships of the businessman from Białystok. 
He knows who to attack
For years, Białystok has been regarded as a bastion of fascists and football fanatics. The city—as described by journalist Marcin Kącki in his recently published book "Białystok. Biała siła, czarna pamięć" ("Białystok. White Power, Black Memory")—is shaken by clean-shaven youths, and skinheads have their people positioned in influential circles. One of the most well-known is the aforementioned Tomasz P., "Dragon."  He is officially active in the Children of Białystok (an association of Jagiellonia Białystok fans) and takes part in charity work. However, these social activities are only a facade, behind which hides a man with convictions for assault with a dangerous object, inciting assault or intimidation of witnesses. He also has numerous offenses on his record, earned while traveling to Jagiellonia Białystok matches. His brother Mateusz, "Young Dragon," is active in the same group of hooligan supporters. 
The decline of the era of the "Dragons" in Białystok began when Gerard B., alias "Gonzo," broke the silence during the investigation in July 2014. The testimony of the repentant skinhead (several convictions on his record, tattoos on his skin, among others: White Power, SS, Blood and Honour) allowed the prosecution to bring charges against as many as 115 people from the Białystok gang.  
"Gonzo's" testimony (and that of other witnesses, including high-ranking skinhead Rafal S.) shows that, in Białystok, the skinhead and hooligan communities intermingle. From the testimony of the repentant "Gonzo": "In the meetings in which I participated, the leading role was played by [Paweł] F. (…) He was dedicated to getting as many people as possible to go to matches and fights. He was interested in football, he knew who was playing where, who to attack and when."
The gang's case file is 90 hefty volumes, a record of the crimes of both " Dragons," Paweł F., and dozens of others. The indictment covers the years 2009-2013, a time when the "Dragons" group grew and gained influence in the city. 
Symbiosis of skinheads and hooligans
The case file reads that it was during this time period that the "Dragons" and Paweł F. became solidified: arranging illegal fights with fanatic fans of other teams, organizing structures for brawls, calling Jagiellonia's ringleaders, and gathering those willing to engage in riots. 
The elder "Dragon," Tomasz P., has a high position at the stadium. According to the repentant hoodlums, this is "thanks to his acquaintance with the decision-makers of Jagiellonia Białystok." From the testimony of "Gonzo": "Dragon was a skinhead and a fanatic supporter. Later I found out that he was the leader of the informal militia Right-wing Jagiellonia, which included people who identified with the skinhead subculture." 
In the indictment, we find information that the fascist right-wing Jagiellonia then included Paweł F. now known in Białystok as a businessman from Kuchnia Vikinga. We also learn that F.'s name had been known to Białystok investigators since at least 2005 as one of the leaders of the Jagiellonia hooligans.  
Prosecutors have established that in Białystok, football fans and fascists lived in symbiosis. The elder "Dragon," who was in charge of the security of one of the escort agencies, indicated which of the skinheads could do well as bouncers. He himself is offended at being called a skinhead, preferring the word "patriot."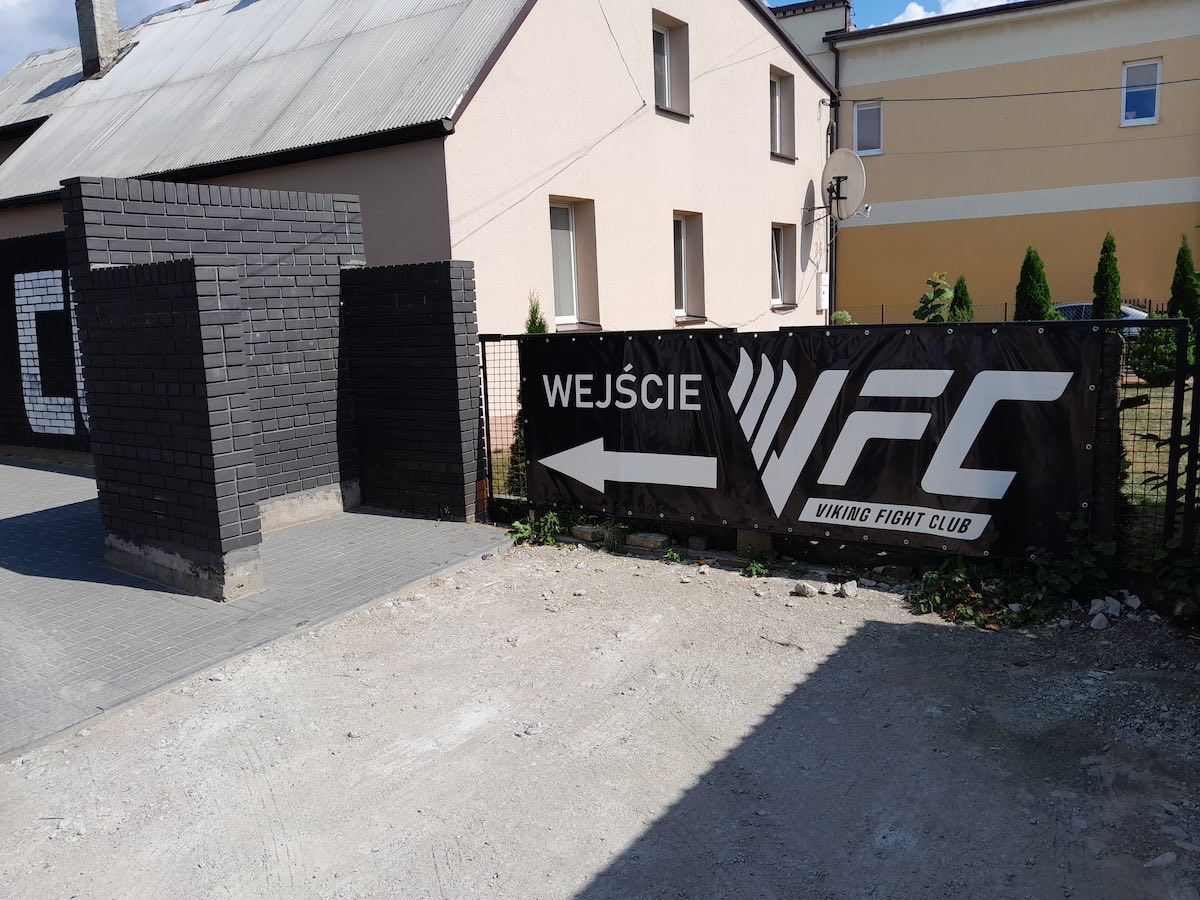 "Gonzo" told the story of young "Dragon," today the head of the Viking Fight Club. He spoke of how, at one of the demonstrations, Mateusz P. chanted the slogan, "I don't apologize for Jedwabne"—that is, the town where, during World War II, the Polish population carried out a pogrom against the town's Jews. For this, young "Dragon" was sentenced to eight months in prison and three years probation. The scenes from the group's life recalled by witnesses are harrowing: when one of the minor thugs was suspected of stealing valuable steroids, the elder "Dragon" took him to the woods and beat him so badly that, the next day, his buddies could hardly recognize the victim. Another time, when skinhead acquaintances got charges for assaulting a foreigner with machetes, it was "Dragon" who intimidated witnesses and persuaded them to change their testimony. He would receive a nine-month prison sentence for this in 2014.
Photo with "Heil Hitler" 
One of the defendants in the gang's trial is Łukasz G., another piece in the Białystok puzzle. 
G. was charged as early as 2012 for making a Nazi salute at a memorial to World War II victims in Augustow, Podlasie. On the hard drive of his computer, investigators find folders full of photos from Nazi events, like those held at the Wolf's Lair, Adolf Hitler's former quarters, where Białystok skinheads perform Nazi salutes before entering the bunker. The photos also show younger "Dragon" making this gesture. 
When investigators eventually entered the apartment of the "Dragon" brothers, they found a photo of one of them posing over someone's coffin with his hand raised in a Nazi salute. 
Today, younger "Dragon" has his company, WB-Point, registered at that same address. His partner is none other than Paweł F., or "Reptile," co-owner of Kuchnia Vikinga. 
Łukasz G.—the one charged for saluting in Augustow—is now a cook at Kuchnia Vikinga. G. is also a trainer and MMA fighter at the Viking Fight Club, run by "Young Dragon."
Paweł F. officially stays away from the "Dragons" and has instead set up business with Łukasz Dawidziuk, a man with a clean record, no criminal charges, and no convictions on his record. Like "Reptile," he is interested in combat sports. In November 2018, they organized an MMA gala, "Wschodni Front – Noc Vikingów" ("Eastern Front – Viking Night") in Białystok. They opened a joint business: diet catering. In 2022, they registered a company: Wschodni Front. 
Who came up with the idea of starting a legitimate business in the first place? According to the story of Paweł F.'s partner, "Reptile" has always dreamed of running a pizzeria. The dream has come true. He and Dawidziuk set up a diner, Jaga Pizza&Bistro, in downtown Białystok.
However, the jewel in the crown of Dawidziuk and Paweł F.'s businesses would be Viking's Kitchen, which would transform from a small local gastropub into a nationwide chain yielding millions of euros in a few years. 
Tens of thousands for Mentzen
It's the end of May, and the Everest 23 business event is underway in Katowice, Silesia. It is being organized by Eventspot, an event company in which Mentzen Law Firm—a company owned by right-wing politician Sławomir Mentzen—has a stake. Sławomir Mentzen advertised Everest 23 on his social media for several weeks leading up to the event. 
Participants are expected to listen to lectures (including on the role of marketing and team building) and motivational speeches, while participating in networking and exchanging experiences. Entrance to the conference is ticketed, with the cheapest package costing 382 euro, and the most expensive, 1,350 euro. Slawomir Mentzen of the Confederation party is mingling with the guests, one of whom is the co-owner of Kuchnia Vikinga, Łukasz Dawidziuk. Mentzen's event sponsorship package will cost Kuchnia Vikinga as much as 13,500 euros.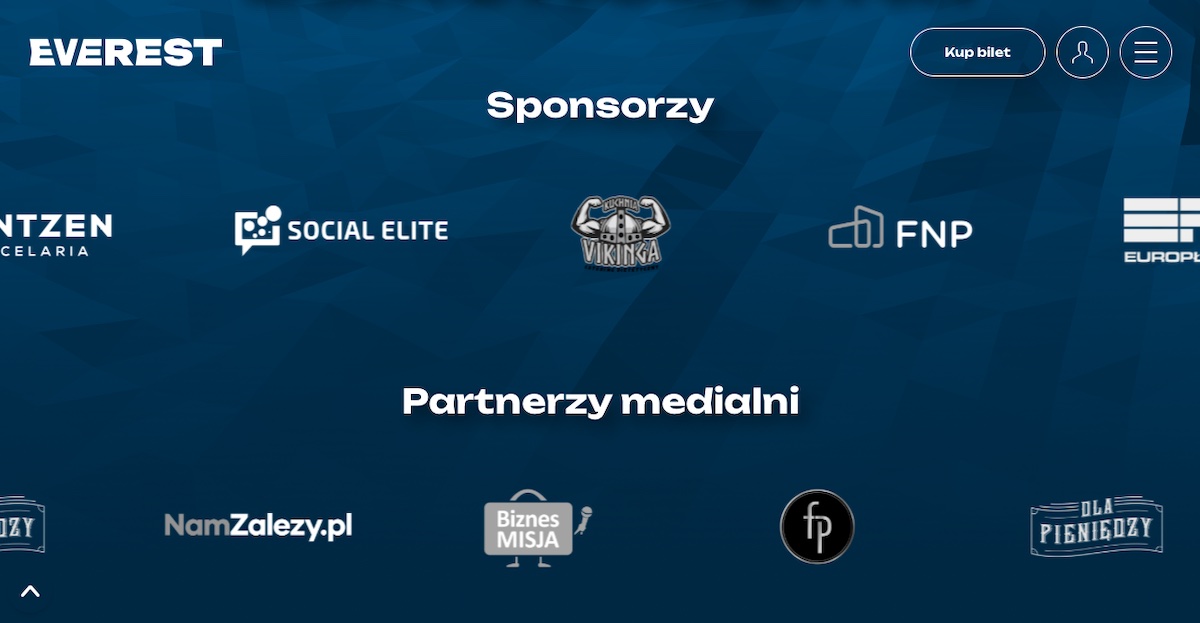 The star of the evening is Szymon Marciniak, a Polish international football referee. When the information about the referee's performance is revealed by the " Nigdy Więcej" ("Never Again") Association (which has been researching far-right movements for years), followed by the media, a scandal erupts. The reason? As the Gazeta Wyborcza daily put it, "Mentzen is not only a tax advisor, but also a Confederation politician, known for his words: We know what to say so that voters will listen to us. We use data, we have a scientific approach. We came up with five demands. These are the 'five' of the Confederation: we don't want Jews, homosexuals, abortion, taxes, or the European Union."
Some of the event's sponsors will back out—but not Kuchnia Vikinga. 
July. In the company's conference room in Białystok, a relaxed Łukasz Dawidziuk, co-owner of Kuchnia Vikinga, tells us about the successes of the Wschodni Front company and its catering. About Mentzen's conference: that it wasn't a matter of convergence of views (Dawidziuk claims he isn't aware of those), but only to promote their brand and make new contacts.
When we ask about his only partner, Paweł F. (both have the same number of shares in the Kuchnia), the atmosphere thickens. Dawidziuk claims that "Reptile" is not involved in the day-to-day operations: "We decided to share, so that he handles the pizzeria, and I handle Viking. He comes here once a month, just leaves paperwork for the accountant, documents from the restaurant business he runs," he assures us. 
And what about "Young Dragon", who runs the Viking Fight Club? "Well, the guys came and asked if they could have "Viking" in their name. So I agreed. Anyone can open a business called "Viking." I don't own the name. If you want, then you, too, can open at least a Viking Gym, I have nothing to do with it," explains Dawidziuk. What does he think about the criminal past of his partner, "Reptile"?  "That's Paweł's business now, I can't worry about whether he will be convicted or not. I don't even fully know if any issues are pending. I don't look into it. We've known each other for five years, it's hard to talk about the past, which was between 2009 and 2013. He would come to the store, we would talk. He wanted a pizzeria, I had 30 thousand, he had 30 thousand, we rented the premises for 10 thousand and somehow it happened."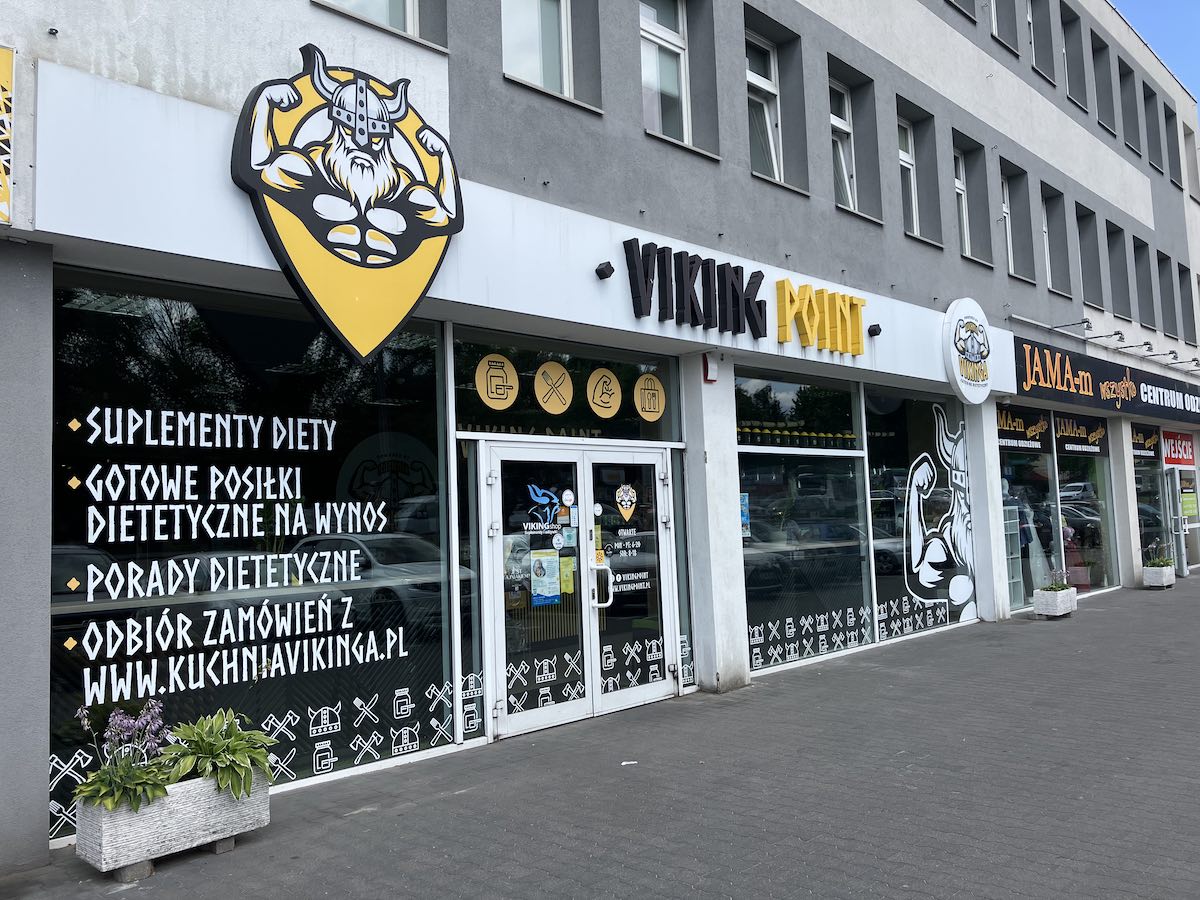 In later correspondence, Łukasz Dawidziuk denies that the brothers Mateusz and Tomasz P. are in any way connected with Kuchnia Vikinga. "As for Mateusz, the proceedings in his case were concluded more than 10 years ago, and we are of the opinion that acts committed so long ago should not affect our business negatively," Dawidziuk argues. Instead, he elaborates on the charitable activities his company conducts, including fundraising to help children, senior citizens, and donating food for refugees from Ukraine. 
The head of Viking Fight Club, Mateusz P., one of the main defendants in the Białystok trial, does not want to answer our questions. On the phone, he says only that he has nothing to do with Kuchnia Vikinga. 
How much does Kuchnia Vikinga, where, according to Dawidziuk, his partner "Reptile" is content to just run a pizzeria, earn? The Wschodni Front company was established in May 2022 and by December of that year alone had recorded—a bagatelle—nearly 18 million euros in revenue. 
The brand is about to get even stronger. According to our information, Kuchnia Vikinga wanted to promote itself with the help of the Polish national football team. Its representatives met on the issue with Szymon Sikorski, head of Publicon Sport, which handles marketing services for the Polski Związek Piłki Piłżnej (PZPN, the Polish Football Federation). The presentation of Kuchnia Vikinga as the new sponsor was due to take place on September 7, during Poland's match against the Faroe Islands. 
Sikorski confirms negotiations with Kuchnia Vikinga; he does not want to reveal details. Has he vetted the national team's future sponsor? "We do not have the tools to verify the entities we are talking to," he writes back. PZPN did not respond to a request for comment. 
After inquiries to Publicon and PZPN, Kuchnia Vikinga writes us in an email that "the final cooperation did not take place for financial reasons," but that it will sponsor this season's soccer clubs Wisla Kraków, Jagiellonia Białystok and Arka Gdynia. 
Vikings, not skinheads
There is closer business cooperation between Sławomir Mentzen and Kuchnia Vikinga than just the sponsoring of the conference. Dawidziuk confirms: thanks to Mentzen's law firm's advice, the Kitchen has saved 45,000 euros in taxes. Mentzen's firm also provides Kuchina Vikinga with legal and accounting services
What does Sławomir Mentzen think of a company whose co-owner is accused of involvement in a criminal group? At the headquarters of his law firm in Toruń, we hear that he is unavailable and will not even talk on the phone. At the time of publication, we have also not gotten answers to the questions we emailed to his assistant.
During the trial of a criminal group whose purpose was to organize and participate in battles between hooligans, Paweł F., or "Reptile," was accused of also participating in fights. We visited two places that he manages. At one of them, we met his wife. She promised to forward our request for contact. A few moments later, we got a call from. Paweł F.'s partner from Kuchnia Vikinga—Łukasz Dawidziuk, who invited us to talk in the conference room of his company. 
"Reptile" himself did not meet with us, but he did send an email: "My business activities have nothing to do with the pending court case." He also claimed that he has never been associated with the hooligan or skinhead communities. "Nazi views are as distant as possible for me," argues Paweł F. 
In the Białystok, conference room, as we were finishing a meeting with chairman Dawidziuk, Kuchnia Vikinga's chef prods: Don't write badly about us. After all, we're no skinheads. 
THE IMPACT OF OUR INVESTIGATION 
Following our Polish publication on Frontstory.pl on August 1, cooperation with Kuchnia Vikinga "pending clarification of doubts" was suspended by the Wisła Kraków club, of which the Białystok-based brand was a sponsor.
The end of cooperation with Kuchnia Vikinga was also announced on social media by Krzysztof Stanowski, popular Polish YouTuber and co-owner of the Sports Channel, in which the company from the Podlasie capital advertised.
A statement was also issued by Kuchnia Vikinga. Maciej Niemyjski, a spokesman for the company Wschodni Front, which owns Kuchnia Vikinga, confirmed that Paweł F., a partner and board member of Wschodni Front Ltd. (owner of KV) is accused of involvement in a criminal group and does not admit to the acts he has been accused of committing. According to a spokesman, Mentzen's event was "purely commercial and educational," and Viking was just one of many sponsors. The company also announced that it "will take all possible legal steps against individuals or organizations that, by violating the personal assets of the company or its managers, aim to undermine the good name and trust necessary in the conduct of business."
Support independent investigative journalism in Poland,
become a patron of FRONTSTORY.PL on Patronite!