2018-04-26
Jan Kuciak made a revolution in my life 8 years ago when we met at the university. He was my friend, schoolmate, colleague, mentor, beer buddy, psychologist, philosopher, and an irreplaceable person in my life. All these sides of Janko have been spread across Slovakia and every single face during protests in the squares reflects one of them.
blog post by Eva Kubániová
26th February 2018 stopped the casual time flow in Slovakia. The whole country was shocked by the news of the death of journalist Ján Kuciak and archaeologist Martina Kušnírová. The official statement hit thousands of people even more. The police president Tibor Gašpar related the most likely motive of the murder to Ján's investigative work.
Tragedy was discussed by everyone – journalists, politicians and people who did not even know him. The press conferences were held on a daily basis across the whole political spectrum. After the publication of Ján's unfinished article, several high-profile politicians resigned under the pressure of the public.
The story connected the leading party SMER to the Italian Mafia. The allegation caused a wave of outrage and thousands of people went to the streets. Protests have been held in weekly intervals since 9th March and exceeded the historical protests in attendance. The majority of Slovak media joined together and have been working on topics that Ján Kuciak uncovered in his last story. And ordinary people still go to squares with badges and ask for the creation of decent Slovakia without corruption.  They do not remember any other event that would affect the modern Slovak history on so many levels.
The country has shifted its perception of democracy in two months more than in the recent years. The Slovak society's change is visible. Behind this change there are the individuals who have already refused to stay passive.
Thousands of decent Slovaks
Peter Nagy was one of those in shock. He has known Ján personally and he was moved. And he wanted to move.
The 27-year-old journalist decided to do something almost immediately at the moment he got a call about the murder. He wanted to say it loud that such Slovakia is not a country where he would want to live and where a murder of a journalist is common.
Soon after he and some of his friends organized a memorial march for Ján and Martina, which instantly became widespread. He expected a maximum of ten thousand people to join them – that would have the same power as the most attended anticorruption protest – "Gorila" in 2012. In the end, there were twice that many people marching in Bratislava and the memorial marches took place in more than thirty cities all around the world. The main idea was to honor the young couple and to address that Slovaks, as a society, need to care about journalists. On the main banner there was a message: 'attack on journalists, attack on all of us.'
At first they thought that their role would finish with the end of the memorial march. But once they heard the statements of politicians, they changed their minds: "We cannot tolerate it. This is not a country where we want to live" – Nagy tells me. – And then we faced reality: if we don't change it, who will? And so we took the responsibility.' So they decided to go back to the streets and squares.
It was the hardest week in Nagy's life. Politicians knew that there was an indescribable strength in the square and they tried to discredit the young organizers. They accused them of being paid by the western propaganda forces and tried to cast doubt on their statements and efforts.
The night before the first political protest (March 9th), Peter Nagy didn't sleep at all. He felt great pressure of responsibility to hold a calm protest. The organizers had received information from different sources about possible violence. – I was so scared. But we couldn't stop. It was too important – Peter Nagy recalls the first protest which broke the record of fifty thousand people, just in Bratislava, around one hundred thousand in more than thirty cities.  – When the protest was finished, I felt great relief. No violence at all. On that day I realized what bravery means for me. It does not mean to feel no fear. It means to feel it, but go against it.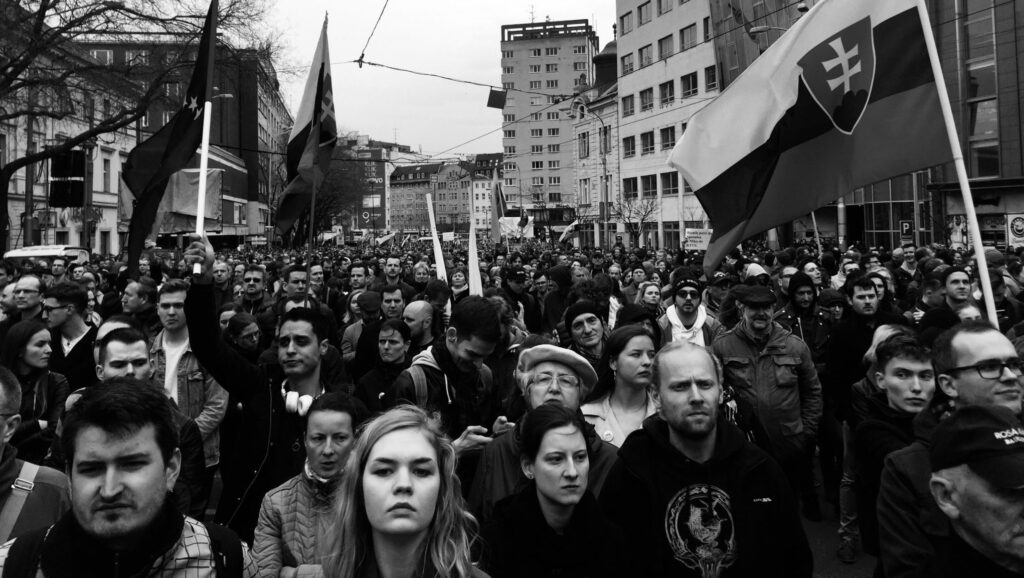 The organizers demanded a transparent and international investigation of the murder of Ján and Martina. The number of people who showed up overcame even the revolutionary November '89 and the Velvet Revolution gathering. The protests are still not over. They take place every week since 9th March. Several high-profile politicians resigned from their posts, including the former Prime Minister Robert Fico, his long standing minister of interior Robert Kaliňák as well as Kaliňák's successor, Tomáš Drucker, who remained in office for no longer than two weeks. The Slovak police president, Tibor Gaspar, promised to leave the office by the end of May. His resignation was one of the organizer's priorities.
Peter and his wife Katarina, who both are the protests' organizers, often discuss the meaning of November '89. They agreed that if should they have lived at that time, they wouldn't be scared to protest. They are proud that they have had a chance to prove it many years later.
Peter Nagy sees a change in Slovak society. – People used to be very frustrated and apathetic. Now they are more sensitive to politics. Nobody expected that Slovaks would go to the streets and that they would be interested in what's going on. I think we have been giving a good example for the future generation. We can demand what we want, and our representatives need to reply. At the same time, we show our engagement in a very decent and calm way – explains the 27-year-old man who created probably the most successful protest in Slovak history. 
A newsroom that matured
A photo of Ján and Martina is everywhere, especially in Bratislava. I can see people with the same white #allforjan badges as mine, photos and candles in front of governmental buildings, their faces on banners along the streets, and in Ján's newsroom.
A few days after the murder, I had my first meeting with Peter Bárdy – Ján 's boss. It was very hectic. There were dozens of candles, the couple's photos and several policemen in front of the building of Aktuality, the newsroom where Ján worked. Nobody could enter the newsroom without a special permission. In front of the main door to the Aktuality's office, several policemen were doing the security checks. Ján 's colleagues wore black. The only white piece of their garderobe was a round white #allforjan badge on their chests.
They have left Ján's table as he had left it on his last day at the office. Lots of papers, a box of instant coffee and the book "Ndrangeta". Two things were added – a candle and a bunch of white tulips.
The editor-in-chief of Aktuality, who seemed to be very touched and broken, was at the same time very active – moved from one table to the other, picks up one call approximately every thirty seconds. When he asked how much time I need, I told him, "as much as you have". Ten minutes. During those ten minutes, he remained on the phone with the investigators and the media in rotation.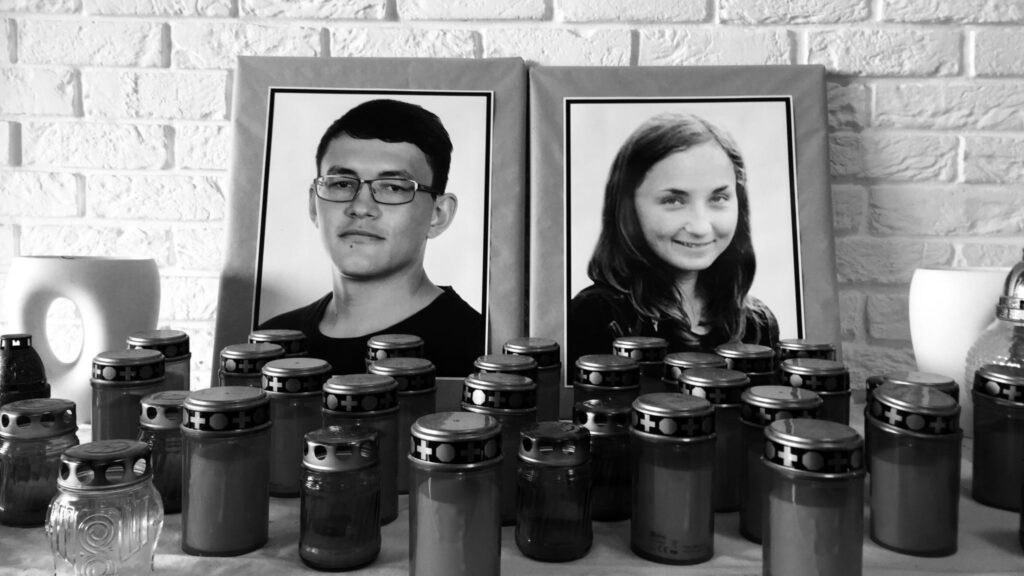 When I met him six weeks later, a calm man with a decent smile welcomed me. Despite telling me the last time that he would not give any more interviews, he agreed to my request.
He remembers that morning of 26th February very precisely. He got a call from a colleague, who never calls him. He said that somebody had sent a message on Facebook that Ján had been murdered.
As soon as he rushed to the newsroom, the police and the minister of interior called him. – It was horrible. I kept on repeating one sentence aloud: "I don't know what to do". I thought it was all just in my head – recalls Bárdy on the very first moments of that morning. – My colleagues asked me what happened, but I didn't want to say it out loud. Then I called for an urgent meeting at 8.30. Even the reporters on the field needed to stop at a gas station and I told them: Ján was killed. I don't remember that moment, but my colleagues described it like that. You cannot be prepared for a situation like this.
Bárdy didn't even want to publish an article about Ján's death. There was nobody in the newsroom who would volunteer to write the story. Aktuality was the fourth Slovak medium that published it.
They refused to talk to other media or the public. Bárdy was sure though that Ján's last, unfinished story must be published. He offered it to all Slovak publishers at the same time.
The stress was so present the day before the publication of the story. Its release was delayed because of an English translation and Bárdy had to face accusations of blocking the story. The pressure from media, public and his own people was enormous. Ján's last story has become the most readable article in history of Slovakia.
– I've changed so much since then. I slowed down. I started using Ján's tools. I make notes, I share documents with others. I am more organized than I used to be. I didn't even have a calendar before – describes Bárdy his professional progress, adding: – I used to push on publishing too fast, but now I want to build the stories on the basis of hard data.
The tragedy has changed every single reporter in Aktuality. – My newsroom matured. In the past, there were moments when I needed to push people to work on an uncomfortable topic. Now I have a newsroom of fifteen investigative reporters – Bárdy laughs.
He believes that Ján's murder has shown that journalism is on the side of the public. Many of those who come to the squares nowadays, were not even alive during November '89. He thinks that people believe that the toxic net of connection in the police, among prosecutors and judges can be finally torn down. The society needs to breathe again and to finish the last part of the Velvet revolution.
Message is still alive
Simona Hahnová is one of those who cannot remember the events and atmosphere of November 1989 – she is only 25 years old. When some weeks ago she was standing in the middle of the crowd and found out that there were more people on the protest than in November '89, she got goose bumps. She felt no fear or anxiety. The essential emotion of the enormous crowd was peace and humbleness. People were tied by the same emotions of peace and decency.
She did not know Ján Kuciak personally but when she found out about the murders, she started shaking and crying. She could not explain why. Maybe because she is in the last year of mass media studies or because she has never imagined that a journalist could be killed in a democratic country.
Every single lecture at the Faculty of Media started with the topic. There is an open gallery at the Paneuropean University where fifteen students decided to display all of Ján's 138 articles. The project was highly supported by the university management. The exhibition is divided into two sections. Beside 500 of pages of Ján's work, there are also photos of the students from the protests expressing the message that they do care.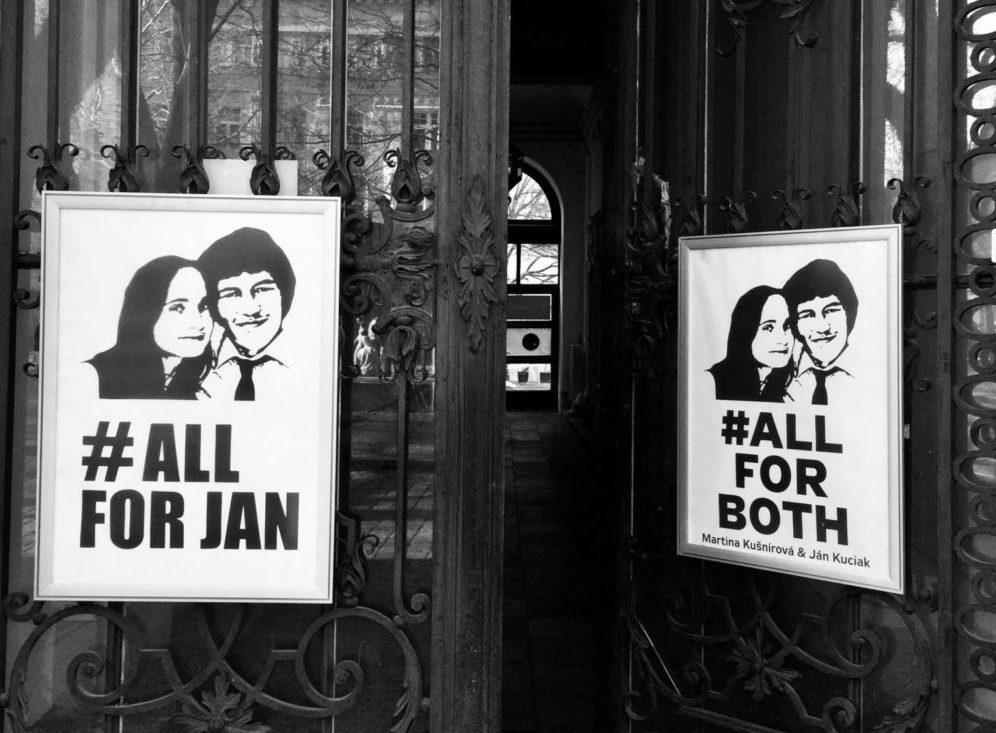 – (Before) I did not pay much attention to politics. I was tired of all the lies and corruption. Everything was the same. After the murder, something happened, my opinion changed rapidly – Simona looks back at the past weeks. – We need to be aware (citizens – VSquare) if we want to live in this country.
Simona admits she was very surprised by the turnout of the protests. She considers this to be the biggest change in the awoken society. – I could say that I talk about Ján every day with somebody. I am chatting with my friends and suddenly somebody mentions the murder and we immediately switch to the topic. I can't remember any case that we would discuss more. On the other hand, it is very sad that it had to go this far. I believe if this tragedy is silenced by the politicians, it needs to be kept alive by us. It is necessary to talk about it more.
Power of two young faces
A few weeks after the murder I knocked on the door of a parish church in eastern Slovakia. The village has a population of less than 200 people, most of whom are believers. As soon as priest Pavol Zaťko sees my badge, he shows his jacket and, with a humble smile, proudly says: "I have the same one."
That morning, when he found out about the murder, he was sitting in his doctor's waiting room. He was very sick that week, but it was a blessing in disguise. He could follow and read all the newspapers. He had never heard about Ján Kuciak before. He imagined him as a sixty-year-old journalist. A photo of a young couple shocked him.
He printed out the same photo and made a sacred place in a chapel in the village. He encouraged people to come, light a candle and pray. The chapel was open during  the first weekend after the murder and at the time of memorial marches.
Despite his bad health, father Zaťko decided to join a memorial march in a city nearby. He was not alone. He suggested his teenage students to join him at the march. Two fourteen-year-old girls were excited and all the way back home, they were twittering how interesting the speeches were and how beautiful the march was.
Only a few dozen people were in the square, when Zaťko came a few minutes before the start of the memorial march. He wondered: where are the others? His concern was unreasonable. At 8 o'clock, people poured in from all the routes leading to the main square. He could see many different faces which reflected the same emotion as his own. It was the emotion of an enormous tragedy, a memory of two young, innocent people who paid the highest price for fighting for truth.
Zaťko joined each protest after Ján's and Martina's death as a citizen, not a priest. He looks at the whole situation from a very human perspective. Throughout our whole conversation, he was holding the photo, which was displayed in the chapel. – One day, when I will be leaving this house, other photos will stay here. But the photo of these young people… they are coming with me – explained the touched priest.
They say that when history is writing a new chapter, people usually remember what they were doing then. 26th February 2018 changed Slovak history and will be remembered not only by their closest. Not because a journalist and an archaeologist were killed. But because Ján Kuciak and Martina Kušnírová were killed. The tragedy has touched the anonymous crowd which had never had a chance to know them.
The history maker is a not a person whose name is written in history books. It is a person, who came to the lives of thousands and inspired them to change a little bit of their own history.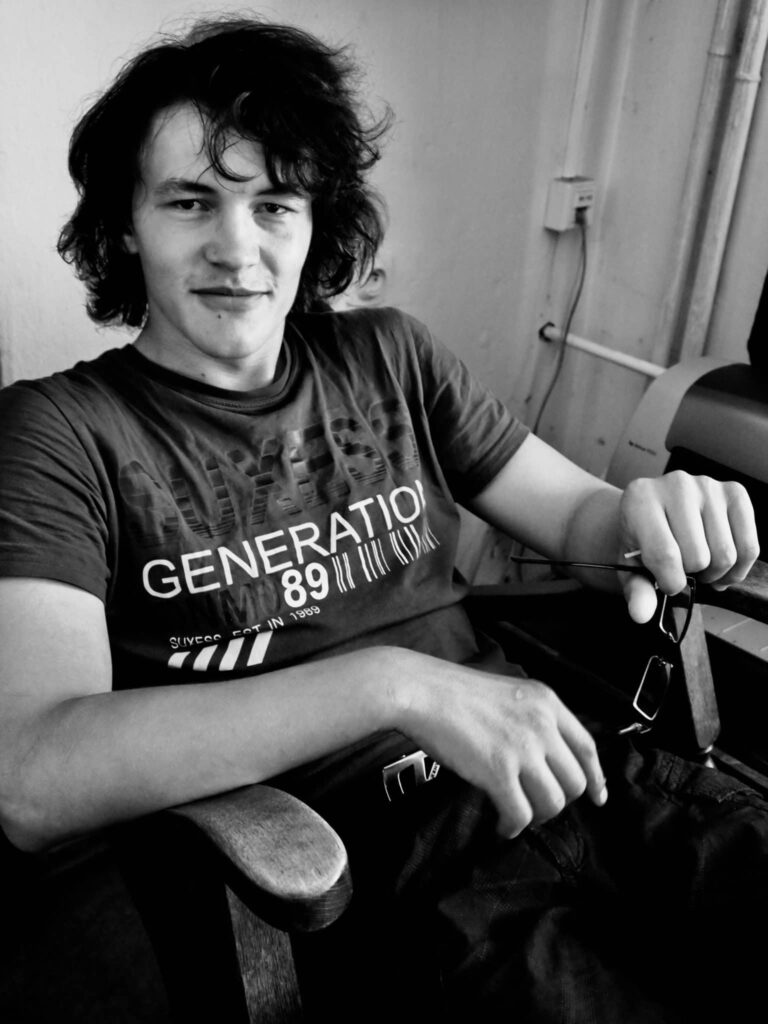 Photos in the story by  Eva Kubániová. All rights reserved.
Eva Kubániová
Eva is a journalist working for investigace.cz based in Prague. Investigace.cz is NGO covering organized crime topics and the only Czech partner of OCCRP. She works on projects connected to Slovakia.