Greetings from Brno, the next stop on my regional tour! Both summer and the Visegrád region's election season is over, and there's a lot on our plate. In our fresh Goulash—yes, in the picture, it's a Pilsner Goulash with knedel—you'll find the latest scoops with some good insights by Czech expert sources and a short analysis on how Robert Fico has formed a new Slovak government with right-wing extremists. We're also sharing our latest international and cross-border investigations into Russian espionage in Brussels as well as on Baltic drivers smuggling migrants through Hungary and Poland. Thanks for regularly gobbling up Goulash, and if you'd like to share it with someone else, send them the link to subscribe! – Szabolcs Panyi, VSquare's lead Central Europe investigator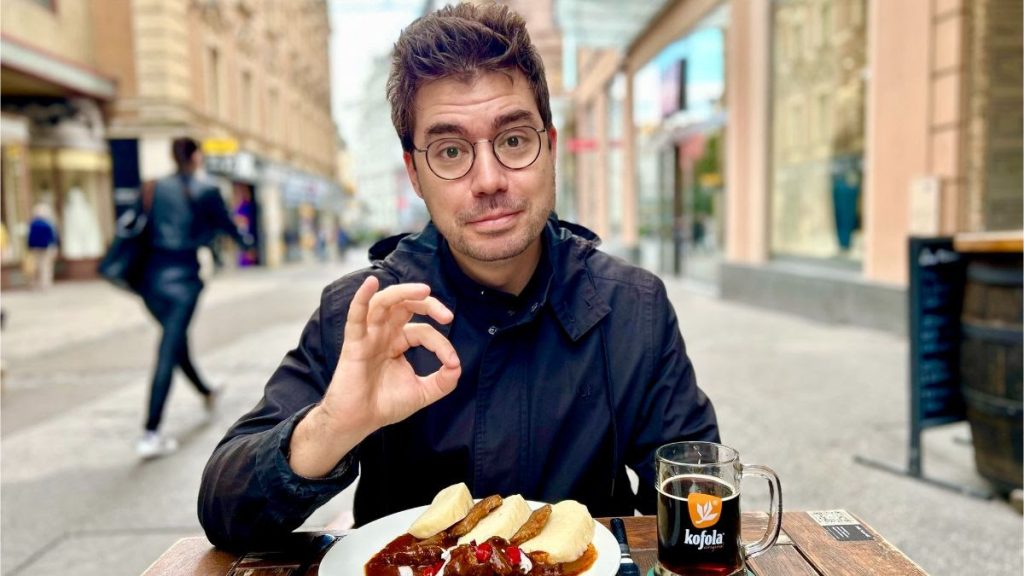 Back in 2016, when the soon-to-be founders of VSquare gathered in Warsaw to discuss our cross-border initiative, we worked to come up with a name. Although we eventually settled for VSquare (standing for V4, the Visegrád Four countries), the runner-up name for our site—proposed by Investigace's Pavla Holcová—was goulash. But no brainstorming session is ever really wasted, and the name will be served as our new newsletter.
SPICY SCOOPS
There is always a lot of information we hear that we find interesting and newsworthy but don't publish as part of our investigative reporting. In this edition, we'll start and end with Orbán, but, in between, touch upon the Czech Republic and Slovakia as well.
ORBÁN RUNS HUNGARY FROM HIS HABSBURG ESTATE–TURNED–DACHA
The days of Hungarian PM Viktor Orbán conducting his meetings from his rural countryside home in his ancestral town of Felcsút—just next to a 3,500-seat football stadium in the town of 2,000 people—seem to be over. A few kilometers to the east of Felcsút, in Hatvanpuszta, the reconstruction of Archduke Joseph Anton of Austria's 19th century country estate was essentially finished in the summer (see a nice pic here). Estimated at approx. €30 million, the Habsburg estate-turned-dacha is officially owned by Orbán's father. In comparison: even after a considerable pay raise earlier this year, the PM's official annual total income is still just €180,000.
However, according to a former senior Orbán government official, Orbán is not only spending long weekends at the 13-hectare luxury estate with his family, but also receiving cabinet members, Fidesz politicians, and businessmen there on a regular basis. "These work meetings at Hatvanpuszta mostly take place in the evening," the source added. While Orbán's lieutenants take the 40 kilometers trip from Budapest mostly by car, there's also heavy helicopter traffic in the area, including police and military helicopters, according to a source from that region. Orbán is also regularly spotted having a meal in the neighboring town of Etyek at a government and EU fund-supported restaurant and winery, the source added. 
EUROPEAN LIBERALS UPSET WITH BABIŠ BUT UNABLE TO TACKLE HIM
Meanwhile, the European liberal party family (ALDE) is increasingly upset with former Czech PM Andrej Babiš and his ANO party, mostly due to Babiš's cozying-up to Orbán and other right-wing populists. Their ALDE membership has been suspended since May and there was supposed to be a high-level delegation of liberal bigwigs traveling to Prague. The idea was to send a fact-finding mission to figure out whether ANO should be reinstated or kicked out. "But someone from ANO told them they would not meet the delegation, so they didn't even come," a Czech foreign policy expert told me. ANO has a certain bargaining power: they have 5 MEPs in Brussels and, as they're flying high in the polls (around 34 percent currently), and are expected to have even more after next year's EP election, the foreign policy expert added. Nevertheless, despite the cancellation of the inquiry mission, delegates at the Bucharest ALDE Party Council meeting on October 20-21 came up with the evaluation criteria for ANO's membership, a source from ALDE told me. 
"There will be three cornerstones. First, how ANO votes on the marriage equality issue that is now going into the Czech parliament. Second, how much anti-EU rhetoric will be used in the pre-campaign. Third, whether there will be more interference in other countries' elections as there was in Slovakia," the source listed. ALDE was particularly upset that Babiš actively campaigned against the fellow ALDE/Renew member Progressive Slovakia party. "Multiple red lines have been crossed already. At the extraordinary ALDE congress before the EP elections, we will evaluate these aspects and decide how to proceed," the source added. However, according to an MEP from the Renew Europe group, the real problem is that "Babiš is not only buddies with Orbán but with Macron, too," and "in recent years, political influence within ALDE shifted from the party leadership to liberal governments, such as France's"—meaning that Macron and others are using their influence to protect Babiš.
For those with deeper interest in Babiš, I recommend the latest episode of OCCRP's Dirty Deeds podcast in which Pavla Holcová talks about investigating the former Czech PM's offshore finances, the threats she received, and the lawsuit she eventually won.
CZECH REPUBLIC'S KEY ROLE IN KEEPING FICO'S SLOVAKIA AT BAY
A day after Robert Fico's election victory in Slovakia, renowned journalist and best-selling author Árpád Soltész—founder of our partner outlet, the Investigative Center of Ján Kuciak (ICJK.sk)—packed up and relocated to Prague. Subsequently, in a video posted on Facebook, Fico singled out Soltész and mockingly told that nobody will miss him. A senior Czech diplomat with whom I spoke expects that more Slovak liberal and progressive intellectuals will move to Prague, a city that's already sheltering dozens of exiled Russian and Belarusian journalists (check Investigace's previous story on their safety issues).
According to this Czech diplomat, his country will also have to play a mediating role in trying to tame Fico's foreign policy. "When it comes to NATO and security related issues, we have to take the initiative. Czechs have the highest acceptance in Slovak society, so if we don't want such issues instantly becoming controversial in Slovak politics, it should be us to lead. For example, were there NATO reinforcements, only Czech troops would be accepted as 'boots on the ground' in Slovakia is a sensitive question," the diplomat explained. However, a less optimistic Czech foreign policy expert told me that he expects "big damage to Czech-Slovak relations," but also added that, in the big picture, "there's not much strategic interest. Internationally, who cares about the Slovaks? The main interest was that Slovakia supports Ukraine, and they've already given them all [the weapons] they had." 
WHAT CAN WE DO IF TRUMP COMES BACK? FOCUS MORE ON CHINA
One of the bigger strategic issues for Central European policymakers for the near future is the possibility of Donald Trump returning to power. And this prospect can be pretty unnerving, especially given recent reports suggesting Trump may want to downscale, if not end, US participation in NATO. "It was not a tragedy at all with the previous US administration under Trump," a senior Czech diplomat recalls, adding that "Fiona Hill [National Security Council director for Russia] and Wess Mitchell [assistant state secretary in charge of Europe] were important allies playing a very positive role." However, a second Trump term could be very different. According to the senior Czech diplomat, the key would be to somehow catch Trump's attention, and there's only one topic that would do the trick: doing more on countering China. 
"It's mostly to keep the US engaged with Europe and protect us against Russia, not because China per se is a direct threat to our region. For us, the key issue is US commitment to NATO and US military presence in Europe," the diplomat told me, adding that "the way to keep the US interested in our region—since they are focusing so much on China—is for us to deal more with China. Regardless of the next administration, I believe that a major confrontation is coming on the US-China front anyway, and we have to pick up the signals." Translating that into action: Central European countries should screen and restrict Chinese investments and technology more.
ORBÁN TRAVELS TO BEIJING, COMMITS TO CHINESE RAIL TECH
Well, that's exactly the opposite of what Viktor Orbán is doing (though Trump loves him anyway). Hungary's prime minister was the only EU leader to participate at the third Belt and Road Forum in Beijing, where he held talks with both Vladimir Putin and Xi Jinping. One priority issue on Orbán's agenda was to solve a key problem with the Budapest-Belgrade railway reconstruction, China's last Belt and Road project within the EU. As I reported in a previous Goulash newsletter, there was a major conflict over the railway signaling equipment and the so-called automatic train control system. While the Chinese wanted to deploy their own technology, it's not compatible with EU standards and may even pose a national security risk. In Beijing, however, Xi Jinping pressured Orbán to accept that the railway project must use Chinese technology, according to a source close to the Hungarian government and familiar with the issue. Moreover, it also became the Hungarian prime minister's responsibility to sort out any further issues with EU regulators. 
US WARNS ORBÁN'S PET TELECOM COMPANY OVER HUAWEI TIES
That's not all. On his Beijing trip, Orbán was accompanied by executives from his pet company, Hungarian telecom giant 4iG, which signed a declaration about deepening ties with China's Huawei, a move that will likely anger Democrats and Republicans alike in Washington DC. Earlier this year, the US government already directly raised concerns with 4iG CEO Gellért Jászai over his company's heavy reliance on Huawei equipment, according to a source familiar with the discussion. And what was the response? Jászai essentially shrugged off these concerns. "The US does not want a big telecom company in the middle of Europe that expands with Huawei technology," the source explained. 4iG owns mobile carrier Vodafone Hungary, which, just like their other regional acquisitions, such as Albania's ALBtelecom and Telenor Montenegro, is trying to dominate local markets with Huawei's cheap technology. According to the US and many other NATO allies, Huawei's 5G and other equipment could pose serious national security risks in the long run. 
Got a nice scoop to include in our Goulash newsletter? Contact me at [email protected]
NEW ON VSQUARE
RUSSIAN DIPLOMATS STILL SPYING FREELY IN BRUSSELS
In the latest part of our international #ESPIOMATS investigation—"Espiomats" being the word we invented for Russian intelligence officers posing as diplomats—we uncovered the activities of Kirill Logvinov, head of Russia's diplomatic mission to the EU. We reveal not only that, according to Belgian counterintelligence, Logvinov is an SVR spy, but also that the European Commission, despite being briefed on spying activities, has so far refused to revoke the diplomatic accreditation of Logvinov and some other Russian diplomats with revealing CVs. We found that another Russian diplomat still happily working in Brussels graduated from the FSB academy, while a third one's Russian home address is at the headquarters of GRU. As our US-based editor Emily Tamkin put it: "What is wrong with the EU?" (Also available in Slovak.)
Why are so many citizens—mostly young men—from Baltic countries getting arrested in Hungary for human trafficking? Well, that's what we explain through first person accounts of convicted traffickers in this Re:Baltica-led cross-border investigation. We even got in touch with some of the anonymous recruiters (all members of organized crime groups) during their search for new drivers in Russian-speaking Facebook groups. And while we were working on the story, something unexpected happened: Hungary's government started releasing the convicted traffickers—so Re:Baltica took the opportunity to actually meet some of them in Hungary right as they were coming out of prison. (Also available in Latvian, Lithuanian and Hungarian.)
FIRE WEATHER RISK INDEX ON THE RISE IN EUROPE
While we're all mostly focused on problems with Central Europe's politics, economy and society, there's usually too little attention given to environmental issues. This new story by the European Data Journalism network offers a troubling conclusion: the share of Europe's territory at high risk of fire has doubled in the last 50 years. While it's nothing new to the southern part of the continent, in recent years, forest fires have also become more severe in central, eastern and northern European countries. Even populations who were not previously at risk of enduring a wildfire are increasingly in danger. And the trend is looking pretty grim. 
But have some good news too: 'Kremlin papers', our joint investigative series with international partners based on leaked Russian documents, has been a finalist for the European Parliament-supported The Daphne Caruana Galizia Prize for Journalism! Check out VSquare's series on the Kremlin's secret plans for Belarus, Moldova, and the Baltic countries.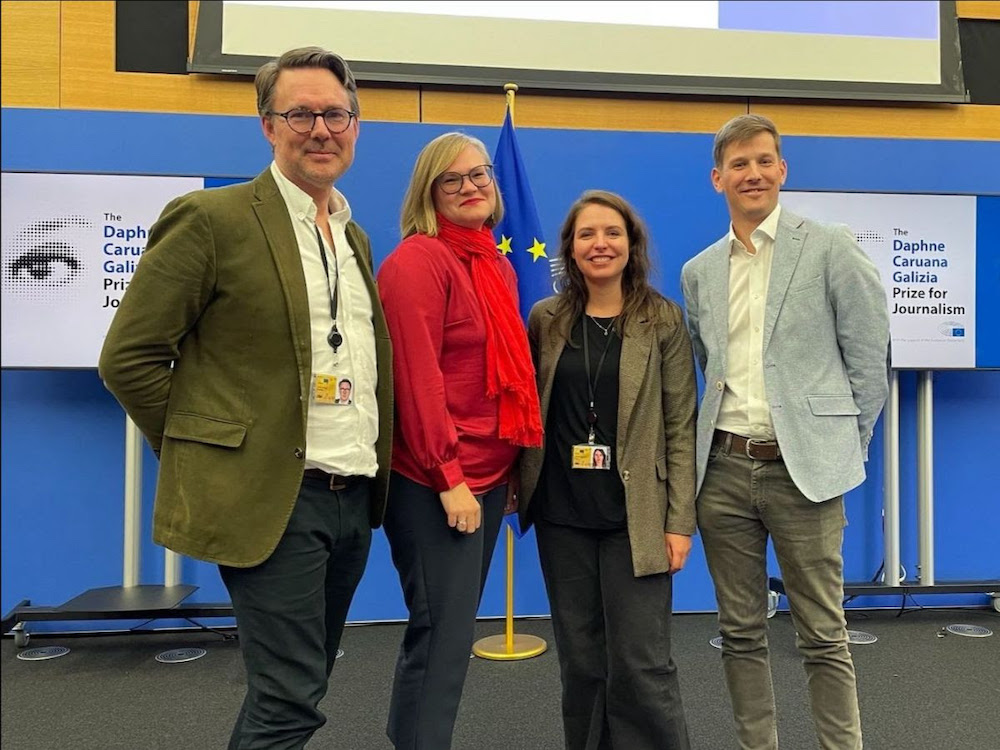 Representing the 'Kremlin Papers' project at the award ceremony in Brussels, from left to right: Mattias Carlsson (Expressen), Palina Milling (WDR), Rūta Juknevičiūtė (LRT), Holger Roonemaa (Delfi Estonia)
BREWING IN THE BOTTOM
HERE COMES ROBERT FICO'S NEW GOVERNMENT. On Wednesday afternoon, Robert Fico became the prime minister of Slovakia for a fourth time, thus making history. ICJK's Tomáš Madleňák analyzes how Fico assembled his new government: 
"Fico is not only the only person in Slovak history so far who has managed to reach the position so many times. He did this after he was forced to resign following the protests after the murder of investigative journalist Ján Kuciak and his fianceé Martina Kušnírová in 2018. The following election, in 2020, saw Fico weakened, his Smer party split. Many expected this to be the end of his political career. Over the years, however, he was able to regain public support first with his anti-COVID-19 and later with pro-Russian rhetorics. Now he's back, and this fact creates tension and unrest for many. The government will be led by his Smer–SSD party—which, according to the analysis by ICJK and its safe.journalism platform, attacked journalists the most during the campaign before the September 30 election. 
Among others, former interior minister Robert Kaliňák is back, too. He was in office when Kuciak and Kušnírová were murdered. In 2022, police charged him with being part of a criminal organization and he spent 21 days in pre-trial detention. Later that year, however,  he had been released by the supreme court who considered his detention as unlawful. His charges were dismissed by the prosecutor general eventually. He is the Minister of Defense in the new government, which gives him, among other things, the responsibility to oversee Slovakia's military intelligence. Smaller coalition partners of Smer are Hlas–SD (Voice–Social Democracy), the party of former Prime Minister Peter Pellegrini, which split from Smer in 2020, and SNS (Slovak National Party), led by Andrej Danko. SNS got back into the parliament after it failed to reach the threshold in 2020. Majority of SNS MPs are actually members of smaller fringe parties and movements, which Danko invited to his list. 
SNS nominated Martina Šimkovičová—the face of a disinformation Youtube channel called "TV Slovan"—to be minister of culture. Among her responsibilities will be oversight of Slovak media. Another nominee for cabinet was small-town mayor Rudolf Huliak, an avid hunter and climate change denier who threatened an environmental activist with hanging on Facebook. He was to become minister for environment. But Slovak president Zuzana Čaputová stepped in and refused his appointment, leading to political tensions as Smer and SNS seemed unwilling to compromise. Eventually, however, they gave in. As Andrej Danko said at a press conference—in which journalists from significant independent media outlets Aktuality, SME, and Denník N were banned from participating—one of the reasons for them agreeing on a replacement was that there is an EU summit in Brussels on Thursday, and "we want Robert Fico to be able to go to Brussels together with Viktor Orbán." 
If you liked our scoops, stories and exclusive analysis, give it a try and read some further articles by our partners!
MORE TO READ FROM OUR PARTNERS
THE SECRET HISTORY OF VIKTOR ORBÁN'S FAVORITE COMPANY. Direkt36's massive investigation tells the story of 4iG, a Hungarian telecom company that's expanding to the Balkans and even to Israel. It isn't only the Hungarian state that is supporting them on their way. Sometimes Viktor Orbán personally negotiates on their behalf. (Text in English and Hungarian).
TRAIN PROJECT RECEIVES ENVIRONMENTAL PERMIT, SET TO FELL HUNDREDS OF TREES. A residential area south of Budapest is heavily affected by a newly greenlit rail project. Officially, it's needed to facilitate passenger traffic. In reality, it will help increase freight traffic linked to China's Budapest-Belgrade Belt and Road project. (Text in English.)
MYANMAR: PLASTIC WITH POLISH TRACE. Frontstory's international investigation finds that not only are wealthier European and North American countries using Myanmar as a dumping ground for toxic plastic waste, but that they are also dumping Polish products sometimes. We're talking about illegal dumps, of course. (Text in Polish.)
BUSINESS OF SELLING REGISTERED HOME ADDRESSES IN THE CZECH REPUBLIC IF FLOURISHING. On the one hand, this clearly helps migrants or refugees to set up a new life. On the other, there are dubious service providers and outright fraudsters as well taking advantage of them, Investigace finds. (Text in Czech.)
This was VSquare's seventh Goulash newsletter. I hope you gobbled it up. Come back soon for another serving!
SZABOLCS PANYI & THE VSQUARE TEAM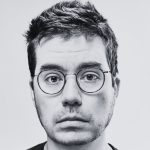 Szabolcs Panyi
VSquare's Budapest-based lead investigative editor in charge of Central European investigations, Szabolcs Panyi is also a Hungarian investigative journalist at Direkt36. He covers national security, foreign policy, and Russian and Chinese influence. He was a European Press Prize finalist in 2018 and 2021.