Anna Gielewska (VSquare) 2023-11-14
Anna Gielewska (VSquare) 2023-11-14
While VSquare changes and adapts, our focus on uncovering and shedding light on what is important in Central Europe does not.
Glistening orbs pictured on dark backgrounds catch the eye. At first glance, they remind me of the small glass marbles I played as a kid at the end of the communist era in Poland.
Only on closer inspection do I realize what I am actually seeing in the Museum of Modern Art in Gdańsk, Poland. The realization makes me feel unsettled.
Vilnius-based Ukrainian photographer Valentyn Odnoviun presents images of totalitarian violence, happening in silence and darkness, in post-Soviet countries. These are not marble glass spheres but peepholes of torture rooms in political prisons in Lithuania, Ukraine, Latvia, Poland, and Germany. Peepholes that witnessed total surveillance, violent interrogations, and broken dreams of freedom and democracy.
These peepholes also zoom into Central European experiences and identity, depicting a long journey to democracy, full of dark backstreets and the body marks of the KGB. Odnoviun, considered a voice of a generation that has had to deal with this post-Soviet heritage, is now busy portraying the Russian invasion of Ukraine from a Vilnius vantage point.
Some six years ago, we at VSquare first asked ourselves what Central Europe really means. Since then, the answer has already changed dramatically. 
In 2017, we started investigating topics of shared relevance in the Visegrád countries, called the V4: the Czech Republic, Hungary, Poland, and Slovakia. "V4" is where the name "VSquare" comes from, with a "square" also symbolizing the space where shared topics, trends, and challenges are debated and discussed.
Twenty-five years after the Visegrád Group was established so these countries could coordinate their departure from the Soviet Union's sphere of influence, and despite the successes of their integration into NATO and the European Union, they still face serious challenges.
Throughout the years, we have published a number of cross-border investigations on critical topics for the region: Russian influence; large-scale disinformation campaigns and cyber espionage operations; Chinese investments; radical movements; illiberal trends, including the export of Orbánism across the region; surveillance; and the climate crisis. All of them still remain in our focus.
"A 'bad boys' band in the European Union; a playing field for politicians eroding young democracies; or one of the most emerging points on a map of global competition between the US and China: what is V4 really about today?" we kept asking in 2020. At the time, we covered massive demonstrations in Poland against the abortion ban and revealed the meanderings of a long campaign to roll back women's rights in Central Europe ("Radicals with Reach").
While Viktor Orbán was consistently implementing his version of "illiberal democracy" in Hungary, Jaroslaw Kaczynski vigorously followed the same path in Poland, taking over the judicial system and independent media. Poland and Hungary were long considered close allies in their disputes with the EU.
On the 24th of February 2022, everything changed with the Russian invasion of Ukraine, which impacted the whole region in an unprecedented way. It may still struggle to define itself, and it may still be trying to shape its regional identity, but Central Europe has indisputably reached a turning point.
Central Europe, and Poland especially, found itself at the frontline of the global response to Russia's war in Ukraine. Warsaw has become a central spot of geopolitical events. The Poles, as well as Lithuanians, Latvians, Estonians, Slovaks, Czechs, and Romanians, have been at the forefront of EU efforts to provide political assistance, military support, and humanitarian aid to Ukraine.
Hungary took the opposite stance. Since the beginning of the invasion, Viktor Orbán has been fiercely supportive of the Kremlin, trying to water down EU sanctions against Russia and delaying the NATO ratification process for Sweden.
The war proved how urgent it was to deepen journalistic cooperation between the Visegrád countries and the Baltic states—and not only to more effectively investigate Kremlin influence operations and sanctions evasion. As many experts predicted, the war has turned into long-term conflict, and "war fatigue" in the countries of the region, whose societies are feeling the impact of the war, has been growing.
Poland, vocally supportive of Ukraine since the beginning of the invasion, started shifting its attitude before the parliamentary elections in October, a result of the Law and Justice Party's efforts to attract far-right voters. For the same reason—that is, to gain popularity among the far-right—illegal migration was one of the most discussed (some might even say exploited) topics in Poland and Slovakia during their respective election campaigns.
Boosted by the Orbán government, illegal migration to Slovakia started rapidly increasing before the elections, making the "Slovak route" popular enough to cause new tensions in the region (including even the imposition of border checks by the Polish government on the Slovak-Polish border).
After Robert Fico's return to power, many expressed concern for the future of support for Ukraine, democracy, and press freedom in Slovakia and the wider region. The chilling lesson of Fico's victory just five years after the murder of investigative journalist Ján Kuciak and his fiancee, Martina Kušnírová, which led to Fico's resignation back in 2018, proves how fragile democracy still is in Central Europe.
Fico's victory in Slovakia was warmly welcomed by Orbán, creating an opportunity to form a new illiberal alliance. Hungary's government continues to crack down on free media and civil society. Recently, plans were announced to introduce a so-called "sovereignty protection bill" to parliament "against left-wing journalists, pseudo-NGOs and dollar [US funded] politicians."
In elections in Poland this October, the democratic opposition beat Law and Justice and is soon to take over power. Poland, with a historical 75 percent election turnout, is on its way back to the EU's democratic mainstream. Law and Justice managed, in its illiberalism, to motivate many young Poles to go out and vote against the government and its propaganda machine. For many of them, it was their very first election. The participation of youth in political processes was typically a struggle in Poland, but it was not this October. This record mobilization is yet to be analyzed by sociologists and political scientists, but it might be read as a clear sign that young people in Poland care for democratic values and the European Union. They support Ukraine, LGBTQ and women's rights, and they expect politicians to take action against climate change. 
In each of these cases, Law and Justice took exactly the opposite, right-wing stance. The campaign was full of far-right propaganda and hate speech, targeting migrants, especially. The ruling coalition members attacked the famous Polish director Agnieszka Holland for her latest and already-awarded movie, "The Green Border," taking on the situation at the Polish-Belarusian border. Zbigniew Ziobro, the Minister of Justice, even compared Holland, whose Jewish father lost his parents in the Holocaust, to Nazi propagandists. At some point, Law and Justice found itself in a surrealistic narrative clash. A huge scandal broke out, revealing that it was actually its own, anti-migrant government that organized a corrupt scheme to sell Schengen visas in African and Asian countries, and that this plan came from the very heart of the Polish Ministry of Foreign Affairs.
Toward the end of the campaign, the Polish government shifted its line of attack and started playing with anti-Ukrainian sentiment, quickly destroying the positive image of Poland for its unwavering support for Ukraine.
Throughout the whole campaign, state-controlled propaganda presented the opposition leader Donald Tusk as simultaneously a German and Russian servant.
Moreover, as noted by many experts, Poland's was not an equal, democratic campaign. The ruling party spent millions of public money on campaign-related activities, including organizing a referendum that served only to support its propaganda and release another stream of public money so that Law and Justice could maintain power. The biggest Polish oil company, Orlen, entered the campaign, too, dumping oil prices, a move that eventually resulted in a lack of oil at gas stations. Both measures copy-pasted Hungarian blueprints, where they contributed to the reelection of Orbán in 2022.
In Poland, despite all these tricks and heavy yet primitive propaganda, this time, the populists lost. However, the path to overturning illiberal laws and taking back control of state institutions in Poland might take time, as President Andrzej Duda, coming from Law and Justice party, will presumably veto most of the reforms and new government initiatives—and he still has more than a year and a half in power. Since his party lost the elections, Duda has been busy maintaining control over the judiciary and promoting his judges.
Elections in Poland and Slovakia, along with Ukraine's EU accession process, will soon reshape the dynamics of power in Central Europe, redefining old alliances and redrawing divisions and conflicts. Undoubtedly, there is a lot to watch and investigate.
Some things remain the same, however—and not only the ongoing debate over which states actually constitute Central Europe. Populism and social polarization are still on the rise across the region, where space for independent journalism has been narrowing for many years.
The Kremlin is not going to give up on running influence operations and intelligence activities either – and China is also quickly catching up to meddle in the region.
While VSquare changes and adapts, our focus on uncovering and shedding light on what is important in Central Europe does not. 
What is behind peepholes will not remain shrouded in silence and darkness. We will make sure that people in our region and around the world can look through.
Anna Gielewska, editor-in-chief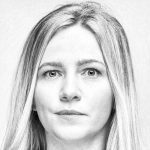 Anna Gielewska
Anna Gielewska is co-founder and editor-in-chief of VSquare and co-founder of Polish investigative outlet FRONTSTORY.PL. She is also vice-chairwoman of Fundacja Reporterów (Reporters Foundation). A journalist specializing in investigating organized disinformation and propaganda, Gielewska was the John S. Knight Fellow at Stanford University (2019/20) and has been shortlisted for the Grand Press Award (2015, 2021, 2022) and the Daphne Caruana Galizia Award (2021, 2023). She was the recipient of the Novinarska Cena in 2022.